How to Fix Far Cry 5 Lag and Performance Issues
Убираем лаги в Far Cry 5
Полностью погрузится в мир Far Cry 5 мешают только постоянные лаги у некоторых пользователей, которые можно легко убрать. Как отмечают игроки, лаги появляются не сразу и даже на самых мощных компьютерах с передовыми видеокартами. Оптимизацией работы игры может привести к увеличению FPS на постоянной основе, т.к. прогрузка моделей высокого расширения даже на низких настройках графики занимает приличное количество как видеопамяти так и оперативной.
Оптимизация для увеличения производительности
Лаги в Far Cry 5 при ошибках в драйверах
Настройка графических настроек
График настроек производительности Far Cry 5
Оптимизация для увеличения производительности
Перед тем как начать играть, давайте попробуем провести начальную оптимизацию для корректной и быстрой работы игры.
Проверьте запущенные задачи через «Диспетчер задач». Важно, Вы должны найти те приложения которые оказывают влияние на загрузку жесткого диска и оперативной памяти. В Windows 10 теперь так же показываются приложения, которые используют графический адаптер. Например Google Chrome даже в режиме простоя может использовать vram.
Найдите службы которые работают в автономном режиме и отключите их. Мы даже не догадываемся, какое количество не системных служб используется в данный момент. Скайп обновления, гугл обновления, поддержка системы архивирования и индексации. Все эти службы загружают наш компьютер бессмысленными действиями, которые приводят к затруднениям в работе.
Проверьте Ваше ОЗУ через антивирус. Важно знать, нет ли сейчас вредоносных или нежелательных процессов в Вашей ОЗУ.
Очистите Ваш жесткий диск. Недостаточное количество свободного места на жестком диске может стать проблемой при кешировании файлов для запуска и работы игры.
Лаги в Far Cry 5 при ошибках в драйверах
Драйвера для видеокарт являются не только источником обновлений для последних игр, но и множеством фиксов связанных с прорисовкой деталей воспроизведения миров приложений. Важно следить за обновлениями драйверов видеокарт и незамедлительно устанавливать их.
Настройка графических настроек
Иногда когда нам кажется, что если поставить все настройки на минимум и выключить все возможные параметры, то игра станет работать на много лучше. Но это совсем не так. Некоторые отключенные настройки параметров отображения графики, влияют как раз в отрицательную сторону. Давайте рассмотрим основные из них.
Вертикальная синхронизация. Данный метод позволяют адаптировать кадры в игре с возможностью Вашего монитора и видеокарты. При включенном данном параметре, FPS в играх начнет приравниваться к частоте обновлений самого устройства вывода (монитора). При резких скачках FPS, данный пункт сгладит возможные разрывы и не позволит игре делать «слайдшоу». Так же будут убраны подёргивания изображения в самые динамичные моменты.
Методы фильтрации изображения. В Far Cry 5 тексты отображаемые на мониторе не в своем изначально заданном размере проецируют дополнительные пиксели для отображения. Билинейная фильтрация — является самым простым методом зарисовки пространства и недостающих фрагментов. Обязательно выбирайте данный пункт при низкой производительности.
Настройка Anti-Aliasing. Самым первым пунктом на данный момент является «FSAA». Данный вариант применялся еще в DirectX8 и на данный момент вызывает лаги, т.к. современные устройства уже с трудом его поддерживают. Важно в настройках выбрать именно «MSAA». Данный метод при лучшей отрисовке еще и повысить производительность.
График настроек производительности Far Cry 5
Ниже мы привели график работы с подсчётами FPS с различныхми настройками графики, дабы Вы сами смогли определить наглядные возможности каждого из параметров.
На некоторых компьютерах лаги так же возможны из за проблем и сбоев в работе приложения, воспользуйтесь решением ошибок в Far Cry 5.
Мы надеемся, что Ваша игра станет максимально комфортной и возможной, если Вы последуете нашим рекомендациям. Попробуйте поэкспериментировать с возможными настройками и параметрами и Вы обязательно достигните больших результатов и в будущем сможете оптимизировать все самостоятельно.
Вылеты, фризы, лаги, зависания, низкий fps и тормоза в Far Cry 5 – как исправить
После небольшого перерыва серия Far Cry снова вернулась на большую арену и порадовала многих игроков оригинальным сеттингом и красивой графикой. Разработчики хорошенько поработали над оптимизацией, однако программных ошибок им все же не удалось избежать. По этой причине в сети Интернет можно найти немало игроков, жалующихся на то, что у них Far Cry 5 лагает, тормозит, не загружается, вылетает, фризит, не сохраняется или вовсе не запускается. Впрочем, для многих этих проблем существуют решения, и мы рассмотрим их в данной статье.
Сразу отметим, что в первую очередь стоит сравнить соответствие конфигурации своего компьютера минимальным системным требованиям. Все же не нужно удивляться тому, что игра у вас тормозит на компьютере, купленном 10 лет назад. Сами «системки» выглядят следующим образом:
ОС: начиная от Windows 7 SP1 (x64) и выше
ЦП: Intel Core i3-2400 или AMD FX-6300
ОЗУ: 8 гигабайт
Графический адаптер: NVIDIA GeForce GTX 670 или AMD R9 270
Жесткий диск: 40 гигабайт свободного места
С железками все в полном порядке? Тогда переходите к следующему этапу, который связан с обновлением программного обеспечения. Вы не поверите, но практически половина всех проблем с играми зачастую связана именно с отсутствием на компьютере пользователя той или иной программки или наличием у него ее устаревшей версии. В первую очередь нужно обновить драйвера для своей видеокарты, однако ни в коем случае не скачивайте их бета-версию, иначе количество ошибок лишь возрастет. Для Radeon скачать «дрова» можно здесь, а для GeForce – вот тут.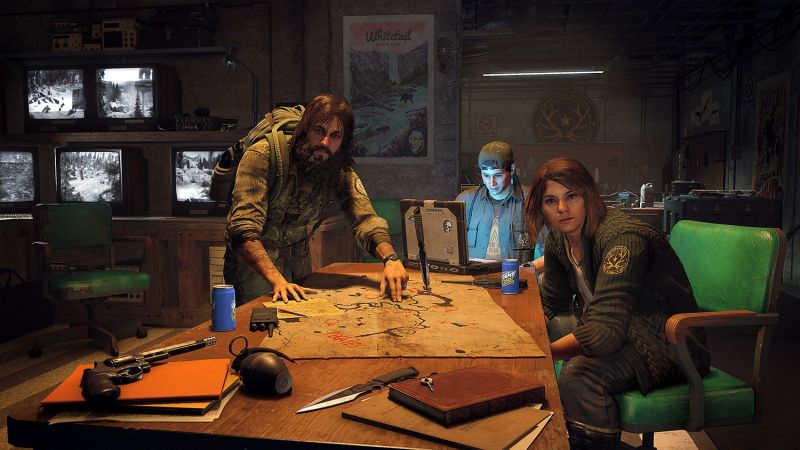 Однако этим набор программ не ограничивается. Следует также установить новейший DirectX или восстановить его целостность, так как данный шутер может не запуститься даже при отсутствии одного единственного файла. Зачастую для его работы требуются конкретные версии Microsoft .Net Frameworks и Visual C++. Все они скачиваются с интернет-портала корпорации. Вообще, стоит присматриваться к выползающим на экране ошибкам, так как в них зачастую содержится информация о программках, которые вам нужны.
Far Cry 5 не запускается
Обычно это происходит при попытке запуска игры на Windows 7. Связана же данная ошибка с отсутствием необходимых обновлений. При наличии лицензионной версии операционной системы просто разрешите ей автоматически обновляться в Центре обновления Windows. В ином случае скачайте обновление KB2670838 с сайта Microsoft.
Шутер может также не запускаться из-за отсутствия Microsoft .Net Framework 4.6.1., поэтому советуем вам обязательно скачать и установить данную программу на компьютер.
Far Cry 5 не устанавливается
На Steam или Uplay проблема может возникнуть из-за отсутствия достаточного объема свободного пространства на жестком диске. Если же у вас имеется установщик, то попробуйте запустить setup.exe в режиме совместимости с ОС Windows 7.
Far Cry 5 вылетает с ошибкой 000001
Она показывает, что ваша компьютерная система не соответствует минимальным системным требованиям игры. Вероятнее всего, вы пытаетесь запустить ее на процессорах AMD Phenom II, у которых нет поддержки SSE 4.1 . К сожалению, без смены процессора исправить эту проблему пока невозможно. Не исключено, что в будущем появятся патчи, позволяющие запустить пятую Far Cry на данных чипсетах.
Far Cry 5 вылетает после первого ролика
Эта ошибка происходит из-за одного параметра. Вам нужно будет войти в настройки игры, перейти в графические опции и поставить ограничение на частоту кадров в размере 30 fps . После этого вылеты прекратятся. В будущем вы сможете изменить данное значение.
Не удается сохраниться в Far Cry 5
Начнем с самых банальных причин – нехватка свободного места на винчестере. Зачастую сохранения записываются на диск «С», который мало у кого может похвастаться большим объемом. Поэтому советуем провести в нем очистку. Второй наиболее распространенной причиной является использование кириллических символов в названиях папок, то есть называть их нужно только латинскими буквами.
Если речь идет о нелицензионной копии, то вам может помочь следующий способ:
Войдите в игру и начните прохождение.
Выйдите из Far Cry 5 и найдите папку CPY_SAVES в директории С:\Пользователи\Имя_пользователя\Documents\.
Нажмите на эту папку правой кнопкой мыши, а после выберите опцию «Свойства».
Перейдите во вкладку «Общие», найдите «Атрибуты» и поставьте галочку неподалеку от надписи «Разрешить индексировать содержимое файлов».
Если этот способ не помог, то попробуйте создать папку с сохранениями в другой директории, например, на том же диске, где установлена Far Cry 5. Для этого нужно выполнить определенные действия:
Зайдите в папку, где находится шутер и откройте папку bin.
В данной папке отыщите файл CPY.ini.
Откройте его и удалите из него все строчки, где SavePath=, то есть [Settings], AppID=1803, PlayerName=CPY, Language=ru-RU, SavePath=, UplayID=c91c91c9-1c91-c91c-91c9-1c91c91c91c9.
После этого игра начнет создавать сохранения на диске, где находится игра. Как и в предыдущем способе, нужно в ее «Атрибутах» поставить галочку рядом с надписью «Разрешить индексировать содержимое файлов».
Запускайте игру только от имени администратора.
Тормоза, фризы, зависания, лаги и низкий fps в Far Cry 5
На компьютерах игра выглядит очень реалистично, но за графику в ней придется платить. Если вы заметили, что fps начал сильно проседать, то стоит первым делом проверить не включены ли у вас другие приложения, например, браузер может «съесть» немалую долю оперативной памяти.
В случае если у вас все отключено кроме игры, то стоит взяться за понижение графических настроек. Сильнее всего видеокарту обычно нагружают тени, высокое разрешение текстур и технологии Nvidia GameWorks, поэтому их стоит отключить или понизить в первую очередь. Впрочем, для выбора оптимальных настроек мы рекомендуем снизить абсолютно все параметры, а затем постепенно повышать их и смотреть на размер fps. В будущем постараемся разместить более подробную информацию по настройкам.
Помочь также может редактирование .ini файла, однако пока что никаких советов по этому поводу дать мы не можем.
В Far Cry 5 появляется черный экран
Наверняка вы уже и сами догадались, что проблема тут чаще всего кроется в графическом адаптере, поэтому стоит вновь проверить наличие актуальных драйверов для нее и ее соответствие минимальным «системкам». К тому же не исключено, что ваша видеокарта постепенно отходит в иной мир.
С графическим ускорителем никаких проблем нет? Тогда это может быть очередной баг. Справиться с ним можно путем переключения игры в оконный режим и обратно. Для этого нажмите на комбинацию клавиш Alt+Tab, а затем снова кликните по окошку игры.
Надеемся, что наши советы помогут вам избавиться от большинства программных болячек Far Cry 5 и насладиться ею в полной мере.
Far Cry 5 – Fix lag, FPS drops, stuttering and crashing
Far Cry 5 lag, fps drops, stuttering and crashing fix – Far Cry 5 is the 5th installment of the award-winning franchise from Ubisoft. The story is set in a place called Hope County, Montana, land of the free and the brave but also home to a fanatical doomsday cult known as Eden's Gate. Stand up to cult leader Joseph Seed, and his siblings, the Heralds, to spark the fires of resistance and liberate the besieged community. If you want your copy of Far Cry 5 from steam then you can buy it here. If you want your game from the official site of Ubisoft then you can get it from here.
Free Hope County in solo or two-player co-op. Recruit Guns and Fangs for hire to help defeat the cult.Wreak havoc on the cult and its members but beware of the wrath of Joseph Seed and his followers. Build your character and choose your adventure in the largest customizable Far Cry game ever! Take control of iconic muscle cars, ATV's, planes and a lot more to engage the cult forces in epic fights. Enhance your game play with eye tracking. Tag enemies by looking at them to increase your stealth skills and help your teammates spot threats. Here are few steps that would help you with Far Cry 5 FPS lag fix:
Far Cry 5 – Fix lag, FPS drops, stuttering and crashing
Far Cry 5 – System Requirements
Minimum:
Requires a 64-bit processor and operating system
OS: Windows 7 SP1, Windows 8.1, Windows 10 (64-bit versions only)
Processor: Intel Core i5-2400 @ 3.1 GHz or AMD FX-6300 @ 3.5 GHz or equivalent
Memory: 8 GB RAM
Graphics: NVIDIA GeForce GTX 670 or AMD R9 270 (2GB VRAM with Shader Model 5.0 or better)
Recommended:
Requires a 64-bit processor and operating system
OS: Windows 7 SP1, Windows 8.1, Windows 10 (64-bit versions only)
Processor: Intel Core i7-4770 @ 3.4 GHz or AMD Ryzen 5 1600 @ 3.2 GHz or equivalent
Memory: 8 GB RAM
Graphics: NVIDIA GeForce GTX 970 or AMD R9 290X (4GB VRAM with Shader Model 5.0 or better)
Nvidia Control Panel Settings
[Note : This is for Nvidia users only]
Open Nvidia Control Panel
Click on Manage 3D settings > Program Settings > and locate the Far Cry 5 executable.
Set Max Pre-Rendered Frames to 1
Set Monitor Technology to G-Snyc (if available)
Enable Threaded Optimization
Set Power Management to Highest Performance
Enable Threaded Optimization
Set Multi-Display/Mixed GPU Acceleration to Single display performance mode.
Best Graphics Settings for Far Cry 5
The game has been tested on a GTX 1050 ti.
Go to Options > Video
Monitor
Window Mode : Fullscreen
Aspect Ratio : Native
Display Resolution : 1920×1080
Quality
Texture Filtering : Normal
Shadows : Low
Geometry & Vegetation : Normal
Environment : Normal
Water : Normal
Terrain : Normal
Volumetric Fog : Low
HD Textures : Off
Anti-aliasing : SMAA
Motion Blur : Off
Advanced Settings
V-Sync : Off
Enable Framerate lock : Off
Field Of View Scaling : 95
Resolution Scale : 1
Task Manager
Here is another trick that seems to be working as well :
Start Far Cry 5
Press Alt+Tab to minimize the game
Open Task Manager and click on the Details tab
Search for the Process named "FC5.exe" or "FarCry5.exe"
Right Click on it and Set Priority to High.
How to Fix Far Cry 5 Lag and Performance Issues
The most anticipated game of 2018, Far Cry 5 is finally here. It seems that the community had expected the game to change the horizon of online gaming altogether. But that did not happen. The storyline of the game did not go well with the fans of the game. The fact is that players are coming across lag and other performance related issues within the game.
We understand that it is primarily a single player game but for those who – wish to play the game with their friends – are facing issues like Far Cry 5 lag. Plus, with PvP mechanism coming soon, fixing this particular problem is of utmost importance.
If you are the one who wishes to get away from such issues, then we are here to help you out. Our technical team has conducted thorough research to come up with some of the most viable fixes dealing with Far Cry 5 performance issues. That is not all, as, in this guide, we have for you workarounds to get rid of stuttering and improve FPS of the game as well.
How to Deal with Far Cry 5 Lag?
Unlike high ping and latency, where the root cause of the problem is usually linked to server and network status, lag is a bit more complex. There are many different factors that can contribute to the occurrence of Far Cry 5 lag. Hence, fixing lag can be quite complicated. However, as we said before, we are here to help. Hopefully, after reading about the fixes mentioned below, you will be able to play Far Cry 5 lag free.
Far Cry 5 System Requirements
Before we delve deep into fixing lag and its many variants, let's take a look at the Far Cry 5 system requirements. Not meeting these requirements can be the initial cause of you coming across lag issues in the game. Therefore, before implementing any of the fixes mentioned in the guide, we would advise you first to check out if your PC is meeting the game's requirements.
Minimum Requirements
Here are the minimum system requirements to play the game smoothly.
CPU: Intel Core i5-2400 or AMD FX-6300 @ 3.5 GHz or better
CPU SPEED: Info
RAM: 8 GB
OS: Windows 7 SP1, Windows 8.1, Windows 10 (64-bit versions only)
Video Card: NVIDIA GeForce GTX 670 or AMD R9 270 (2GB VRAM with Shader Model 5.0 or better)
Recommended Requirements
Mentioned below are the recommended system requirements to enjoy playing the game online.
CPU: Intel Core i7-4770 @ 3.4 GHz or AMD Ryzen 5 1600 @ 3.2 GHz or equivalent
CPU SPEED: Info
RAM: 8 GB
OS: Windows 7 SP1, Windows 8.1, Windows 10 (64-bit versions only)
Video Card: NVIDIA GeForce GTX 970 or AMD R9 290X (4GB VRAM with Shader Model 5.0 or better)
Keep in mind that if you barely meet Far Cry 5 minimum system requirements, you are bound to come across some sort of lag or performance issues within the game. It is because of the fact that you are running the game on its bare minimum. If you want to get away from the lag, the first thing you should do is to improve or upgrade your PC. At least meet the game's recommended system requirements, if no more.
How to Improve Performance in Far Cry 5?
However, if you are still facing performance issues like FPS dips, stutter or rubberbanding, then your PC is not the problem. There is some other underlying cause which might be the reason for such performance issues. But do not worry as we are here with some fixes and workarounds for you which might aid you in getting rid of these issues. For more details, check out the steps mentioned below.
Run Far Cry 5 as Admin
Add Far Cry 5 to "High Priority" from the Task Manager
Switch "Power Options" to "High"
Adjust Windows for "Best Performance" rather than quality
Check if VPN is active. If so, then disable it for the time you are playing the game
Disable or change Windows Defender
Disable or change Firewall Settings
Check Anti-virus settings for any blockages or network restrictions
Validate the integrity of game files from Steam
These above-mentioned workarounds will help you in improving your in-game performance, which in turn will boost your playing experience.
How to Increase FPS in Far Cry 5?
It's just one day after the game's release, and the entire community has started complaining about Far Cry 5 having random FPS drops. Now, for someone who loves playing video games, coming across FPS drops can completely ruin the entire gaming experience. And with what we have noticed, a number of the franchise's fans have given the game a negative review on Steam because of this very problem.
If you want to get rid of FPS drops, then we have got some other workarounds for you. These might help you in increasing your FPS in Far Cry 5. For more details, check out the steps mentioned below:
Make sure all of the drivers on your computer are up-to-date
Close any background application which is either using up your internet or is using up a lot of your system's space
Lower in-game resolution
Turn-off V-sync
Scan and defrag all of the drivers, especially the one where Far Cry 5 is located
Lower your graphics and video settings. This will lower the stress on your PC, ensuring increased performance
Monitor your CPU and GPU temps. If reaching above 70 °C, try giving your PC a break or install additional fans or switches for liquid cooling
Do keep in mind that these are just some general workarounds for improving FPS in video games like Far Cry 5. If implementing these steps has not done much in terms of improving FPS, then the final resort is to upgrade your GPU and other PC components.
How to Fix Far Cry 5 Stuttering and Other Network Issues?
Since Far Cry 5 also features multiplayer elements – with a future addition of PvP just around the corner – there is a possibility you might be facing performance issues because of poor network connectivity. If this is the case while you are playing the game online – in single player mode – then you should not be facing performance issues because of your network. Mentioned below are some of the workarounds, implementing which you can improve your network connection quality, thus helping you in increasing online performance while getting rid of Far Cry 5 network issues.
Switch to a wired connection or move closer to the router
Shut down any background applications like Google Chrome etc. which might be using up your bandwidth
Restrict the number of active users on your network
Enable Port Forwarding and UPnP
Contact your ISP for troubleshooting
If the above-mentioned workarounds did not do the trick for you, then it seems network routing might be the real reason for you facing performance and network issues in Far Cry 5. But since we have promised you that we will do our best to fix these issues for you, we have a very good solution for dealing with unoptimized network routes as well. It is time we introduce you to Kill Ping.
Kill Ping is a gaming VPN. It helps players deal with network issues – including but not limited to – lag, high ping, stuttering, rubberbanding, etc. in online video games. Far Cry 5 is no exception. The gaming VPN provides gamers with dedicated network routes which allow players to play the game without any hindrances. Hence, Kill Ping tends to improve both ping and network performance. So, if you think that your network is at fault here, then we would advise you to give Kill Ping a try .
That is all for now, however, since the game has just been released and the entire community is just getting the hands on the new FPS, we believe more errors and bugs are going to surfacing soon. And like today, we are going to be there for you then as well to fix all of them. But till then, comment below and let us know what you think of the Far Cry 5, has it lived up to your expectations?
Author
Unlike Professional Dota 2 players, Dani is toxic, aggressive and has zero gaming sense. But, his timely puns make up for everything. He has been playing Dota 2 since it was in its early access stage. And when he's not, he spends his time writing about it. Follow me on Twitter @DaniAlamKhan
[Fixed] Far Cry 5 Crashing | Quickly & Easily
Last Updated: 2 months ago
It'd be so frustrating to if your Far Cry 5 is crashing on your PC, especially when you're having great fun. A number of players have reported the Far Cry 5 crashing issue to Ubisoft, but still many of them run into the same issue.
But don't worry. There is something we can do to fix the Far Cry 5 crashing issues. Whether you're having the crashing Far Cry 5 at startup, or the game crashes and pops up an error, you can try the solutions in this post to resolve the Far Cry 5 crashing issues. So read on…
Why is Far Cry 5 crashing?
The general causes for game crashing on computer are: insufficient system resources to run the game, your CPU overclocked, and your graphics card issues. sometimes the improper settings in your game can also lead to the game crashing. So don't panic. There are something you can do to fix the problem.
How to fix Far Cry 5 crashing issues
Install the latest patch
Stop overclocking your CPU
Update your video driver
Set the graphics options to low settings
Roll back your video driver
Modify the system.cfg file
Note: Some Ubisoft games feature Denuvo DRM (digital rights management) which an anti-tamper technology. In this case, it requires some kind of CPU feature to run the game. If your game doesn't have DRM removed, you may not be able to launch the game. And you should head to Ubisoft for suggestions.
Fix 1: Install the latest patch
To fix some bugs and improve the game experience, Ubisoft (the developer of Far Cry 5) keeps releasing patches. So you should check if there is any update in Far Cry 5. If yes, you can install the latest patch to keep your game up to date.
After updating, restart Far Cry 5, and see if the crashing issue have been resolved.
Fix 2: Stop overclocking your CPU
overclocking means setting your CPU and memory to run at speeds higher than their official speed grade. Almost all processors ship with a speed rating. However, this may cause your games stuck on loading or crashing, so you should set your CPU clock speed rate back to default to fix the issue.
Fix 3: Update your video driver
The missing or outdated video driver can lead to the crashing issues in Far Cry 5, so you should update your graphics card driver to the latest version to fix the problem.
There are two ways to update the video driver: manually and automatically.
You can manually search for the latest version of your graphics card driver from the manufacturers, then download and install it in your computer. This requires time and computer skills.
If you don't have time or patience, you can do it automatically with Driver Easy.
Driver Easy will automatically recognize your system and find the correct drivers for it. You don't need to know exactly what system your computer is running, you don't need to be troubled by the wrong driver you would be downloading, and you don't need to worry about making a mistake when installing.
You can update your drivers automatically with either the FREE or the Pro version of Driver Easy. But with the Pro version, it takes just 2 clicks (and you will get full support and a 30-day money back guarantee).
1) Download and install Driver Easy.
2) Run Driver Easy and click the Scan Now button. Driver Easy will then scan your computer and detect any problem drivers.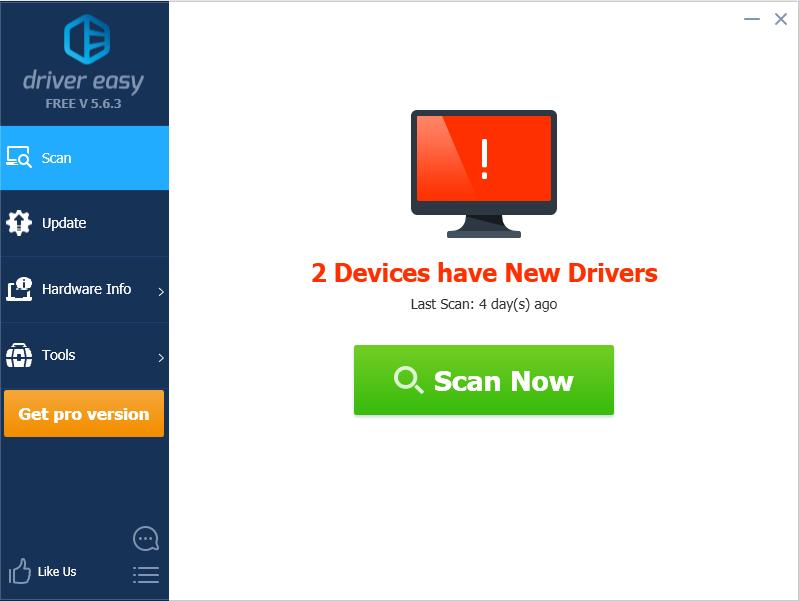 3) Click the Update button next to the flagged device to automatically download the correct version of the driver (you can do this with the FREE version). Then install the driver in your computer.
Or click Update All to automatically download and install the correct version of all the drivers that are missing or out of date on your system (this requires the Pro version – you'll be prompted to upgrade when you click Update All).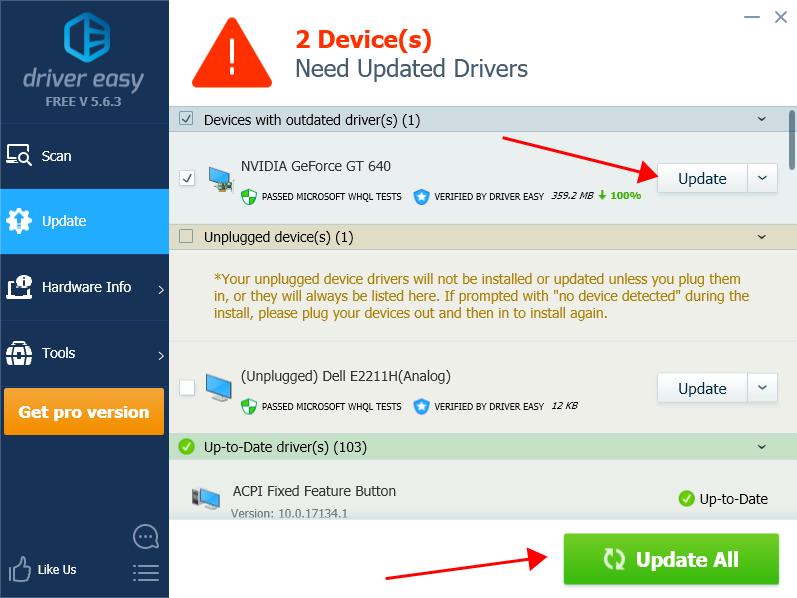 4) Restart your computer and open Far Cry 5 to see if it fixes the crashing issues.
Still no luck? Okay, there's one more thing to try.
Fix 4: Set the Graphics Options to low settings
The high graphics settings in your Far Cry 5 can take up many system resources, but it can slow down your gram or even crashing because insufficient system resource can be provided. With that said, you should set the Graphics Options settings in Far Cry 5 to lower settings to make your game run smoothly without crashing.
1) Open Settings in Far Cry 5, and click Options.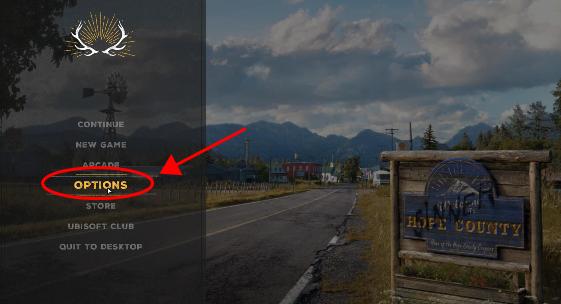 2) Click Video.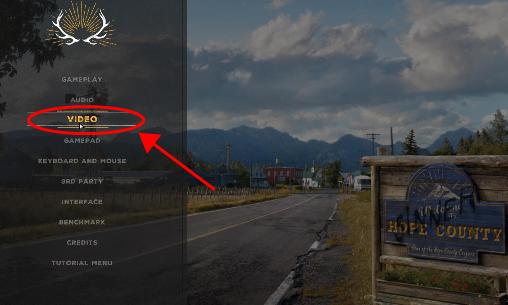 3) Click the Monitor tab, and set Window Mode to Windowed Mode, and adjust the Display Resolution to the display resolution of your computer display, or lower than that.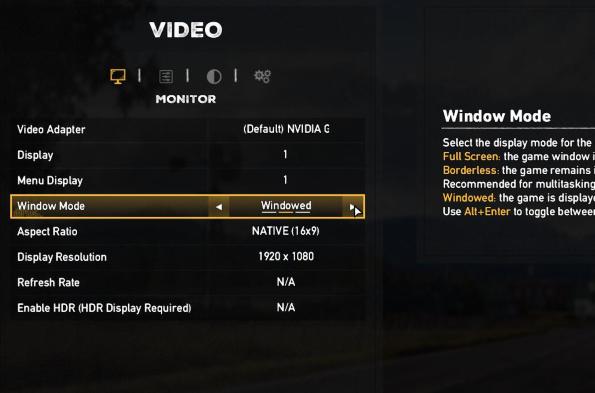 4) Click the Quality tab, and adjust the available settings to Low.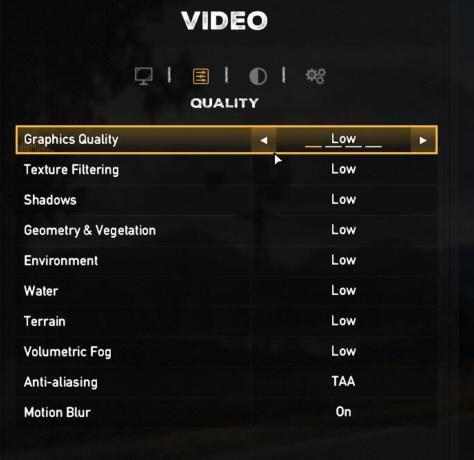 5) Click the Advanced Settings tab, and turn off V-Sync.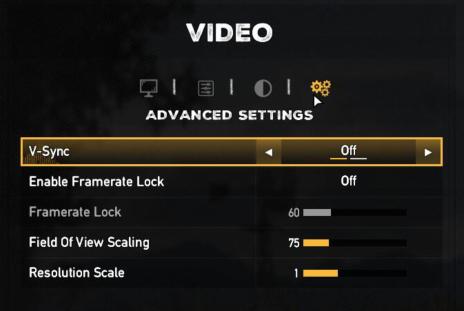 5) Save the changes, restart your computer and open Far Cry 5 again to see if it fixes the crash issues.
Fix 5: Roll back your video driver
Many players have resolved their crashing issues on Far Cry 5 by restoring the graphics card driver in the computer, especially when you're using the NVIDIA graphics cards. To do so:
1) On your keyboard, press the Windows logo keyand R at the same time to invoke the Run box.
2) Type devmgmt.msc and click OK.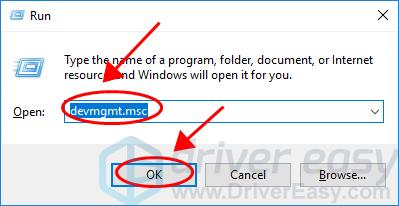 3) Double click Display adapters to expand it, then double click on your graphics card to go to the Properties pane.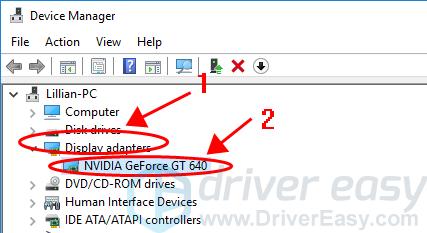 4) Click the Driver tab, and click Roll Back Driver, then follow the on-screen instructions to finish it.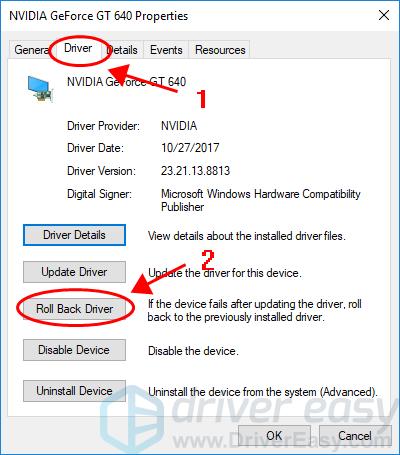 5) Restart your computer and launch Far Cry 5 to see if it works.
If the Roll Back Driver button is grayed out and you can't restore your driver, that means Windows doesn't have the previous version for your graphics card driver. However, you can download and install the old version for your graphics card driver from the manufacturer.
If this method doesn't solve the crashing issues, don't worry. We have other solutions.
Fix 6: Modify the system.cfg file
CFG is a configuration file format used for storing settings. CFG files are created by many programs to store information and settings that differ from the factory defaults. If Far Cry 5 keeps crashing from your computer, you can modify the settings in cfg file to fix the issue.
1) Go to the system .cfg file of your Far Cry 5 folder in your computer (it's usually in this path: C:Program FilesUbisoftCrytekFar Cry ).
2) Open the .cfg file with Notepad or .txt.
3) Change the following settings:
e_overlay_geometry = "0"
r_WaterReflections = "0"
r_WaterRefractions = "0"
4) Save the changes (if you're prompted with the admin privilege, click Yes or enter your admin account and password to finish).
5) restart your computer and open Far Cry 5 again to see if fixes the crashing issues.
That's it. Hope this article helps in resolving the Far Cry 5 crashing issues in your computer and get your game back on track.
Fix Far Cry 5 Snowshoe Error on Windows 10 PC
Update: Stop getting error messages and slow down your system with our optimization tool. Get it now at this link
One of the most famous game franchises FPS got its fifth iteration. The last addition to the list, Far Cry 5 is certainly an amazing game with a competent and alarming storyline, memorable characters and fascinating gameplay. However, two mistakes made earlier this year, made the game inaccessible. The one we will try to fix today is called "Snow Shoe".
Some affected users report that they can finally connect to the network, but only after several unsuccessful attempts, which resulted in the same error code.
To solve this problem, you must first make sure that the game has administrator rights. If you confirm that this is not a problem, you should contact your antivirus program. There are confirmed cases when this problem is caused by Windows Firewall and some other third party equivalents.
Removal of saved game files
Exit the uPlay client on your computer.
Press Ctrl + Shift + Esc to open the task manager.
Select the uPlay process from the Process tab and click Finish task.
Now go to "C:Program Files (x86)UbisoftUbisoft Game Launchersavegames".
Then make a backup of Far Cry 5 memory by copying the files to another drive.
Then browse to the Documents folder on drive C and highlight the CPY.ini file.
Open the file extension (.ini) using Notepad. You may need to give the administrator access to edit this file. When User Access Control appears, click Yes.
You will then need to find and edit the location. You can specify any other location.
Save the changes and reboot your computer.
Finally, run the Far Cry 5 game in the uPlay client.
November 2021 Update:
You can now prevent PC problems by using this tool, such as protecting you against file loss and malware. Additionally it is a great way to optimize your computer for maximum performance. The program fixes common errors that might occur on Windows systems with ease — no need for hours of troubleshooting when you have the perfect solution at your fingertips:
Step 1 : Download PC Repair & Optimizer Tool (Windows 10, 8, 7, XP, Vista – Microsoft Gold Certified).
Step 2 : Click "Start Scan" to find Windows registry issues that could be causing PC problems.
Step 3 : Click "Repair All" to fix all issues.
Troubleshooting the connection
In recent months, the Ubisoft support team has been busy. Far Cry 5 is a well optimized game, but problems with Granite and Snowshoe bug codes cast a shadow on overall performance and gaming experience. Many variants of Snowshoe bugs are mainly focused on connection problems.
To this end, we suggest you take the following steps to solve any connection problems you may encounter:
Switch to a wired connection. In all circumstances, avoid using a wireless connection while playing, as it is unstable and latent bursts are quite common.
Restart the modem.
Flash DNS.
Press the Windows + R keys to enter the command line "Run Elevated".
On the command line, type ipconfig /flushdns and press Enter.
Restart Steam or uPlay.
Check the state of the server. Others may suffer from the same network delay.
Check your PING on different servers.
Update the firmware of the router/modem.
Consider port forwarding and UPnP on your router.
Working with administrative privileges
According to some interested users, one of the most common reasons that will eventually cause a Snowshoe bug with FarCry 5 is the question of administrator rights. Whether you are trying to start the game after downloading it via uPlay, Steam or after installation from traditional media, insufficient permissions can affect the ability of the game to connect to the Internet.
Some users who experienced the same Snowshoe bug when trying to play multiplayer games confirmed that the problem eventually disappeared after making the game executable run with administrator rights.
To do this, go to the Far Cry 5 installation location, right-click the game executable file and in the context menu click Run as administrator. In User Account Control (UAC) click Yes to allow access.
Checking game files
We have two methods for checking game files here, whether you are using a Steam client or a uPlay client.
For Steam users:
Open Steam > Go to the library.
Right-click on the Far Cry 5 game.
Go to the tab "Properties" > "Local files".
Click Check game file integrity .
Wait until the process completes.
Restart the Steam client and try to start the game again.
For uPlay users:
Run the client uPlay > Select games.
Right-click Far Cry 5.
Click Verify files.
Wait until the verification process is complete.
We hope that this article has given you a fix for the Far Cry 5 error. Share them with those who need them.
We appreciate your ideas and comments and are ready to answer any questions you may have on the above topic.
CCNA, Web Developer, PC Troubleshooter
I am a computer enthusiast and a practicing IT Professional. I have years of experience behind me in computer programming, hardware troubleshooting and repair. I specialise in Web Development and Database Design. I also have a CCNA certification for Network Design and Troubleshooting.
Источники:
http://marmok.ru/pc/ubiraem-lagi-v-far-cry-5/
http://landofgames.ru/problems/4981-vylety-frizy-lagi-zavisaniya-nizkiy-fps-i-tormoza-v-far-cry-5-kak-ispravit.html
http://www.killping.com/blog/fix-far-cry-5-lag-performance-issues/
http://windowsbulletin.com/fix-far-cry-5-snowshoe-error-on-windows-10-pc/