List of survivor encounters in Resident Evil 3: Nemesis
List of survivor encounters in Resident Evil 3: Nemesis
Contents
Jack Street civilian
At the beginning of the game, when passing by the Boutique road for the first time, you will hear a man screaming in pain. More forward in the alleyway that leads to the backdoor of Bar Jack, you'll find out that the civilian is already dead, being devoured by two zombies. No matter how fast you are, the man will always be dead when reaching him.
When the two zombies see Jill, they immediately lose interest on the man's corpse and attack her. If you wait some time in the area (around 60 seconds), he will awaken as a zombie and attack Jill. If you leave this area without killing him and re-enter after, his zombie will appear next to the place where he was killed. After Jill's passage by the Raccoon Police Station, his zombified body will be gone.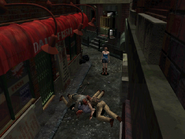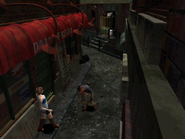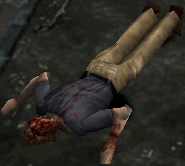 Former S.T.A.R.S. officer Brad Vickers entering the Bar Jack
After Jill witness the death of the civilian in the Jack Street's alley, when you're passing the first time by the backdoor of Bar Jack, you'll hear the sound of shots coming from the playground. Going to the playground, you'll see Brad Vickers, a former pilot of the Special Tactics and Rescue Service (S.T.A.R.S.), shooting down a zombie. After this, he'll turn back and run entering the Bar Jack by its back door.
Sometimes, the zombie who Brad shot barely survives his wounds and rises to attack Jill.
Fission Street fleeing civilian
After leaving the Warehouse, if you re-enter on the Store area of the Fisson Street by the backdoor of Bar Jack or by the Y-shaped alley, Jill will hear a woman screaming «Help!» in despair.
More forward, you will see a civilian (maybe a teenager) running away from two zombies that are chasing her, and she enters the passage to Warehouse. Following her, when you approach the passage's entrance, it's possible to hear her screaming «No. » and the scream is abruptly interrupted. Entering the passage, you will find her already dead beside a zombie, suggesting it killed her. No matter how long the player remains in the area she will not awaken as a zombie, there's a template for female zombies very similar to her, but with notable differences (for example, the zombie template is with two shoes, she's with only one).
There's no way to save her: it's impossible reach her in time before she enter on the passage because she is faster than Jill. Also, if you go to the Fission Street passing by the Y-shaped alley (who lead direct to the Warehouse's front) or kill the two zombies who surround her in the first time you pass this area, when you approach to the front of the Warehouse passage, you will hear hers last scream and she is found dead beside the zombie in the same manner. You can end the game without seeing this scene, however, by doing that you can't access the Warehouse to get the Dario's memo and the gunpower in the container where Dario Rosso locked himself.
List of Enemies and How to Kill Them | Resident Evil 3 Remake (RE3)
This page contains walkthroughs and useful strategies for killing the various enemies in Resident Evil 3 Remake (RE3 Remake). For more information, select from one of the battle walkthroughs below and learn which weapons you should use, as well as how you should handle each monster.
List of Contents
Resident Evil 3 Enemies
Zombie
Location: All of Racoon City
Danger Level
Recommended Weapon
Weakness
★ ☆☆☆☆
Handguns
Head | Legs
Background
Zombies are the result of humans becoming the undead due to the t-Virus. They are scattered all around Racoon City because of the sudden outbreak and can infect others by biting them.
NE-Alpha Parasite
Location: Racoon City
Danger Level
Recommended Weapon
Weakness
★★ ☆☆☆
Handguns
Head | Legs
Background
Ne-Alpha Parasites are zombies that have been infected with the «Nemesis Alpha» or «NE-α Type» parasite. This is the first appearance of these special zombies in the game and they also have tentacle attacks similar to Nemesis.
Hunter Beta
Location: Hospital
Danger Level
Recommended Weapon
Weakness
★★★★ ☆
Grenade Launcher
(Acid Rounds)
Face
Background
The Hunter Beta is a human-reptile hybrid which uses the t-Virus as a DNA bonding agent. The Hunter B was made to improve upon its predecessor the Hunter Alpha. In the game, the Hunter has made the Hospital its hunting grounds.
Hunter Gamma
Location: Sewers
Danger Level
Recommended Weapon
Weakness
★★★ ☆☆
Grenade Launcher
(Explosive Rounds)
Mouth
Background
The Hunter Gamma is a human-amphibian hybrid which uses human DNA bonded to an amphibian egg infected with the t-Virus. The Hunter Gamma looks like a large frog with an enormous mouth.
Drain Deimos
Location: Substation
Danger Level
Recommended Weapon
Weakness
★★★ ☆☆
Grenade Launcher
(Incendiary Ammo)
Fire
Background
The Drain Deimos is a parasitic creature that has been mutated by the t-Virus. These were once tiny parasites that sucked the blood of zombies infected with the t-Virus enlarging them and making them more aggressive.
Licker
Location: Police Station
Danger Level
Recommended Weapon
Weakness
★★★ ☆☆
Assault Rifle
Head
Background
Lickers are mutated humans that underwent a forced second mutation from the t-Virus instead of becoming normal zombies. Their notable features are mainly that they are skinless, have an exposed brain, and have very long tongues.
Pale Head
Location: Nest 2
Danger Level
Recommended Weapon
Weakness
★★★★ ☆
Magnum
Head
Background
Pale Heads are zombies that underwent a special mutation. These kinds of zombies have a special trait than helps them regenerate from the damage they take. It is significantly faster than a normal zombie and it is recommended to use weapons that can damage it faster than it can regenerate.
Related Links
Resident Evil 3 Story
| | | |
| --- | --- | --- |
| Story Walkthrough | Nemesis Battles | Beginner Guides |
| Items | Enemies | Characters |
| Weapons | News | 100% Walkthrough |
| Challenge Run | Message Board | — |
Comment
The Like Feature
You can save a comment for later by giving it a Like.
As a member:Get access to several features!
List of Enemies and How to Kill Them
Walkthrough Menu
Resident Evil 3 Remake Top Page
Resident Evil Resistance Top Page
Story Walkthrough
Opening
Downtown
Substation to Subway Office
Sewers to Subway
Police Station
Subway Tunnel to Clock Tower
Hospital
Underground Storage
Nest 2
Nemesis Battle Walkthrough
Nemesis Walkthrough
How to Fight Nemesis (1st Form)
How to Fight Nemesis (2nd Form)
How to Fight Nemesis (Final Form)
Enemies Walkthrough
How to Kill Zombies
How to Kill NE-Alpha Parasites
How to Kill Lickers
How to Kill Drain Deimoses
How to Kill Hunter Betas
How to Kill Hunter Gammas
How to Kill Pale Heads
Characters
Jill Valentine
Carlos Oliveira
Mikhail Victor
Nicholai Ginovaef
Brad Vickers
Nemesis
Resistance Mode
Survivors and Master Minds
Samuel Jordan
January Van Sant
Valerie Harmon
Tyrone Henry
Becca Woolett
Martin Sandwich
Jill Valentine
Daniel Fabron
Annette Birkin
Alex Wesker
Ozwell E. Spencer
Resistance Beginner Guides
What is Resistance Mode?
Game Controls on Resistance
How to Play Resistance Mode
Beginner Giudes & Tips
Before Playing
Controls and Techniques
Character Models
Recommended Difficulty
How Long Does It Take to Beat RE3
Reviews
Controls and Techniques
Basic Controls
How to Dodge
How to Aim
How to Quick Turn
Tips for Headshots
Tips for Critical Hits
Guides & Walkthorugh
How to Cure Parasite Status
Safe Codes and Locker Combinations
Unlockable Content
Item Combination List
How to Combine Items
How to Farm Points Fast
List of Puzzles
How to Unlock Minimalist
Other Tips & Guides
Pre-order Bonuses
New Features
Mr. Charlie Doll Locations
All Shop Weapons and Items
Differences Between Normal and Z Versions
List of Trailers
How to Unlock Nightmare and Inferno Mode
How Difficult are Nightmare and Inferno Mode?
Weapons
G19 Handgun
M3 Shotgun
GQBR Assault Rifle
Grenade Launcher
.44 AE Lightning Hawk
G18 Handgun (Burst Model)
Samurai Edge
RAI-DEN
Sub Weapons
Knife
Hand Grenades
Flash Grenades
HOT DOGGER
Infinite Ammo
Infinite MUP Handgun
Infinite CQBR Assault Rifle
How to Get Infinite Ammo
100% Walkthrough
Mr. Charlie Doll Locations
Records
Files
Trophies
Items
Custom Parts
Ammunitions
Recovery Items
Key Items
Herb Combinations
Gunpowder Combinations
Challenge Runs
Inferno Mode
Nightmare Mode
Hardcore Mode
Knife Only Run
Demo and Pre-Release Information
Demo Walkthrough
Demos Release Date
Pre-order Bonuses
List of Trailers
Japanese Wiki (日本語)
Rankings
1 How to Get MAG Ammo
2 Nicholai Ginovaef — Skills and S.
3 How to Kill Pale Heads (Naked Zo.
4 How to Cure the Parasite Status
5 Ozwell E. Spencer — Skills and S.
See more
Popular Games
Pokemon Brilliant Diamond and Shining Pearl (BDSP) Guide & Walkthrough Wiki
Genshin Impact Guide & Walkthrough Wiki
Animal Crossing: New Horizons (Switch) Wiki Guide
Pokémon Sword and Shield Guide & Walkthrough Wiki
Shin Megami Tensei V Guide & Walkthrough Wiki
Pokemon UNITE Guide & Walkthrough Wiki
Monster Hunter Rise | MHR (MH Rise) Guide & Walkthrough Wiki
Fire Emblem Heroes (FEH) Guide & Walkthrough Wiki
New World Guide & Walkthrough Wiki
SMT 3 Nocturne Guide & Walkthrough Wiki
Recommended Games
Duel Links Guide & Walkthrough Wiki
Epic Seven Guide & Walkthrough Wiki
Super Smash Bros. Ultimate Guide & Walkthrough Wiki
FF7 Remake Guide & Walkthrough Wiki
All rights reserved
©CAPCOM CO., LTD. 1999, 2020 ALL RIGHTS RESERVED.
The copyrights of videos of games used in our content and other intellectual property rights belong to the provider of the game.
The contents we provide on this site were created personally by members of the Game8 editorial department.
We refuse the right to reuse or repost content taken without our permission such as data or images to other sites.
Terms of Use
Privacy Policy
Opt-out
Inquiries
Operating Company
Game8 — Your Go-To Platform For All Game Walkthroughs and Strategy Guides
Resident Evil 3: Nemesis (1999) Real Ending
#1
Valentine
Hard To Kill
#2
aintnoscrub
PSN: floaty_McTurd
if you believe resident evil survivor is canon, then the canon ending to 3 is where nico lives.
although resident evil 3 according to resident evil wikipedia, is very simple, when it comes to canon endings, and thats just «jill kills nemesis». so im guessing that any ending where you finish off nemesis is considered canon.
i couldnt really find much that was helpful to this =(
#3
XmetallatemX
Well-Known Member
#4
alonecrow
Well-Known Member
#5
bruno
Chief Researcher
#6
aintnoscrub
PSN: floaty_McTurd
#7
Valentine
Hard To Kill
#8
aintnoscrub
PSN: floaty_McTurd
#9
Valentine
Hard To Kill
Yes, when you finnaly defeted him you'll have two alternetives
1. Finish the monster
2. Ignore the mosnter and evacuate
but it doesn't have anything to do with Nicholai dies or lives, you'll always have those two choises no matter what ending youll choose but I understand you when you say that the 1st one is canon.
#10
aintnoscrub
PSN: floaty_McTurd
#11
Valentine
Hard To Kill
When you meet him in the helicopter the two alternatives you'll have are
1. Return fire=killing him cuz he was shooting at you before.
2. Negotiate with Nicholai.
I've tried them all and if one choose to negotiate Nicholai will fly out of there alive.
#12
Valentine
Hard To Kill
I bring this up again on thought of perhaps a RE6. I really want to know if he's still alive. I found this on RE wiki.
«The player's choice affects Nicholai's fate. If Jill jumped off the bridge, Nicholai has two other fates;
If Jill jumps, Nicholai takes the last helicopter, and Jill has the choice to either blow up his helicopter and kill him, or try reason with him, which allows him to escape.
If Jill didn't jump off the bridge, then Nicholai is killed by the Nemesis.
The history timeline in Resident Evil 5 confirmed that Nicholai took the last helicopter but it did not confirm whether Jill killed him by blowing up the helicopter or not, basically leaving Nicholai's fate up to the player.
In Resident Evil: Survivor, a report can be found dated October 6, 1998 which is signed by Nicholai. However, this is only in the English version of the game. In the original Japanese version of the game, the report is signed by the «Umbrella BOW R&D Team», not Nicholai.»
#13
Valentine
Hard To Kill
#14
nemesis_lover
Active Member
Nic getting away in the helicopter is the real ending. This is confirmed in the Resident Evil Archives book, which is published by Capcom themseleves:
«Jill entered the factory control room, and from the window she saw a military helicopter. In the pilot's seat was Nicholai. It was clear he was trying to escape on his own. Jill called him on the radio and demanded that he cooperate with them, but Nicholai still had no intention of doing so. In fact, he revealed to her that he had been assassinating his teammates for a special reward, and that there was even a small price on Jill's head. And so, to collect on those rewards, he aimed the helicopter's machine guns at the room Jill was standing in.
But then, Nicholai realized that high-powered missiles were approaching the city, and he stopped his attack and proceeded with his selfish plan to escape. When Carlos came running in to see what had been happening, Jill informed him that their one means of escape, the helicopter, had now been stolen by Nicholai.
So this also confirmes that good old Barry made his way to the city to save Jill in time. The S.D Perry version of the book also enlists Barry at the end, but I think she kills off Nicholai, i'd have to read it again.
#15
jillmainforever
New Member
Valentine, in Resident Evil 5's «History of Resident Evil» file it says nothing about Nicholai getting the last chopper. So the canon ending is left to the player's choice. Besides, they all lead to the the same result: Jill escapes. Personally, I like the one with her and Carlos only because it makes Jill more of a badass, not a prissy lady who needs help all the time. In the other ending she's either a killer or in constant need of help. The games should be considered the only canon material source (if they come boundeled with a guidebook, databook that explains additional pieces of information about the main story, I suppose they should also be taken into consideration, although a digital format should also exist for those people who didn't buy a CD/DVD version). Except die-hard fans, who else knows of books about a series? It's not fair to leave the other players in the dark and add «exclusive» content in that book only to sell it, seems gimmicky.
I also consider her Resident Evil 1 chapter to be canon, I just suppose Rebecca escaped the mountains somehow else. In Resident Evil 2, I like Claire A/Leon B. I like Dreamcast's Code Veronica more, without X, as the latter only adds some silly useless cutscenes that show how much Wesker dislikes Chris and vice-versa. Sometimes simpler is better. RE Zero was also pointless. That's what I think though, much of the old RE lore is left to the interpretation of the player.
Источники:
http://residentevil.fandom.com/wiki/List_of_survivor_encounters_in_Resident_Evil_3:_Nemesis
http://game8.co/games/resident-evil-3-remake/archives/285715
http://residentevil.org/forums/threads/real-ending.946/