Resident Evil 3 Remake Чит коды Трейнер
Resident Evil 3 — 04.03.2020 +18 Trainer (promo) — Download
Gameplay-facilitating trainer for Resident Evil 3 . This trainer may not necessarily work with your copy of the game.
file type Trainer
file size 5.9 MB
last update Friday, April 3, 2020
Report problems with download to [email protected]
In order to unpack this file after download, please enter the following password: trainer.
For unpacking files we recommend using a free software — 7-Zip.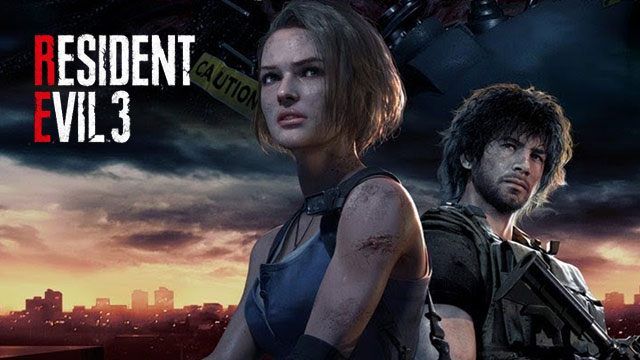 This is a promo version of a trainer, which means that for free you can only activate one of the available functions. In order to access the rest of this trainer's functions, you will need to purchase its premium version at cheathappens.com and download its full version.
Activating this trainer
Press F1 at main menu.
Listen for 'Trainer Activated'.
Press desired hotkey. All hotkeys can be changed on the trainer.
Promo option:
Separator: Game Speed
Premium options
NumPad1: Reset Gameplay Clock
NumPad2: Unlimited Health
NumPad4: Unlimited Ammo
NumPad5: No Reload
NumPad6: No Recoil
NumPad7: Fast Accuracy
NumPad8: Easy Kills
NumPad9: Tyrant Remains Down
Multiply: Zombies Don't Attack
Add: Super Detective Eye
Separator: Game Speed
# Progression and Unlocks
Subtract: Reset Recovery Items Use Count
Decimal: Reset Open Item Box Count
Divide: Reset Saves Count When Saving
F1: Complete Records Challengess Unlock Art Models
Editor Options
Inventory Space (max 20)
Moved Inventory Item
Notes
Game Speed: Toggle on to affect game speed.
Mute Hotkeys
To temporarily disable the Hotkeys, press CTRL-H after trainer is activated. You can use CTRL-H to re-activate the Hotkeys as well. You can also mute specific hotkeys by changing the hotkey you want to mute to 'NONE'.
VR Mode
Click on the VR MODE button. Trainer options will now be drawn as buttons. Activate the trainer as usual with your keyboard. Put your HTC Vive on and when you are ingame press the MENU button on the hand controllers to open the steam overlay. At the bottom you can click on the DESKTOP button and you can easily press options on the trainer with your hand controller now.
As of now the oculus has no unique input device and uses keyboard or xbox controller. Both are support by the trainer already.
Last update: Friday, April 3, 2020
Genre: Action
File size: 5.9 MB
Note: The cheats and tricks listed above may not necessarily work with your copy of the game. This is due to the fact that they generally work with a specific version of the game and after updating it or choosing another language they may (although do not have to) stop working or even malfunction.
Extra care should be taken with modifications, trainers, and other things that were not created by the game's developers. In this case the possibility of malfunctioning or even damaging the game, which may necessitate reinstalling the game, is particularly high.
Resident Evil 3 Remake Ultimate Trainer
СОДЕРЖАНИЕ:
ПАТЧИ: ♣
РЕПЛЕЙСЕРЫ И РЕТЕКСТУРЫ: ♣
УТИЛИТЫ: ♣
УТИЛИТЫ
Resident Evil 3 Remake Ultimate Trainer
Автор: Raz0r
Версия: 1.1.1
Язык: Eng
Дата: 04.10.2020
Еще одна утилита для игры Resident Evil 3 Remake, позволяющая расширить возможности игры. Данный трейнер, можно сказать, выворачивает игру наизнанку.
С его помощью вы сможете регулировать множество настроек, в том числе, доступных исключительно разработчикам. Программа должна быть совместима со всеми версиями игры (японские версии не тестировались).
Особенности:
Автоматическое уклонение (Character > Health > Dodge);
Смена персонажа;
Камера от первого лица;
Смена сцены;
Регулировка скорости игрока;
Регулировка размера игрока;
Здоровье игрока / неуязвимость;
Удаление виньетки / резкости;
Ручной фонарик;
Настройки HUD;
Камера FOV, высота, параметры масштабирования;
Настройка скорости игры;
Универсальный ключ;
Прохождение сквозь стены;
Регулировка положения игрока;
Игровое время;
Магазин очков;
Время смерти;
Время рвоты;
Время блокировки Немезида;
Получить все записи;
Разблокировка магазина;
Другие различные статистические данные;
Изменение сохранения, шага, исцеления, счетчиков ящиков предметов, выстрелов пожаров, убитых врагов, полученного урона;
Изменение динамических очков ранга сложности;
Регулировка сложности игры;
Редактор инвентаря;
Редактор полей элементов;
Скорострельность оружия;
Без отдачи;
Бесконечные боеприпасы;
Настройка открытых слотов;
Один удар убивает врага;
Исцеление врагов;
Регулировка скорости и размера противника;
Модификатор здоровья противника;
Перемещение ближайших врагов к игроку;
Невидимый враг;
Непобедимые враги;
Список статистики ближайших врагов
Модификатор урона противника;
Быстрое Сохранение;
Быстрая переадресация роликов;
Важные замечания (Eng):
I see a lot of FAILED:
— Most likely the trainer crashed or you forcefully closed it at some point — the only way to fix it is to restart the game;
Stage Swap:
— Teleporting can cause issues — missing keys, not working doors etc. (Let's say you start a new game and go to the police station directly, completely skipping the gas station or something similar — the game will try to advance the scenario and thus will break. Going back to the gas station most likely won't fix it)
Inventory Loadouts/Adding new weapons:
— In order to get new weapons, you need to add them to your inventory and freeze the slot that is used for this weapon.
— Do this either before starting a new game or reload a save/checkpoint to get the new items.
*IMPORTANT*:
You shouldn't replace weapons that you get after starting a new main game! This will most likely soft-lock the game (infinite loading screen). Replacing items (ammo, herbs, keys) is safe. Only replacing weapons that are given to the player when starting a new game (Handguns, knifes, shotguns, SMGs and so on) causes this.
— To save loadouts, freeze slots that you want to save first, then click the SAVE button. Loadouts can be imported by clicking the LOAD button and selecting a file with .inv extension.
No Bloodstains
— Prevents your character from getting covered in blood either from your own blood or your enemies' blood. Does not remove existing bloodstains.
— Clean Character Feature — removes dirt/injuries from the character. Needs to be applied before loading a save or reload a save/checkpoint after enabling it
Out of Body
— Allows to walk without the character model — the model stays put while you can move around as usual
Character Swap:
— You should start a new game when swapping characters — using previous save files with already swapped characters can cause issues;
— This feature hasn't been thoroughly tested, so expect all kinds of bugs. Save often, of course.
— Carlos can't use Jill's handgun and her knife. Jill can't use Carlos' knife.
— Carlos also has issues with Jill's shotgun — it's usable, but the animation looks weird and he fires it way too fast
Quick Save Manager:
— This feature allows you to save at any place. Be careful though, as this can break the game or corrupt the save file that was used at the time. You can choose which slots to use(by default it's Auto Save for both slots). You can use the buttons or hotkeys(F1/2 to save, F5/6 to load).
Get All Records & Unlock Shop:
— This marks all records as unlocked. As soon as you are notified that you've indeed unlocked things, disable this feature.
— Unlock Shop — allows you to access the shop from the menu.
This does NOT unlock Steam achievements. In fact, this will most likely prevent you from getting them.
First Person Camera:
— Enables the built-in FPS camera. This feature is pretty buggy and can cause the character's head/hair to disappear. It also heavily breaks cutscenes (as in, the camera can be anywhere).
Skip Cutscenes:
— Skips cutscenes and also radio calls(not completely, you'll still hear the conversation, but you can run around and do what you want. Though audio is a bit broken. You can still skip it as usual)
Return To Title Screen:
— Allows you to return to the title screen by pressing the button or using the hotkey(F9 by default). You can use this if you're stuck.
Picked up files/Dolls shot:
— Not really recommended to use, unless you only want to reset it to 0.
Commit Suicide:
— In case you are stuck or for fun.
Universal Key:
— Lets you unlock doors by using any item, as well as to solve some puzzles(Electronic/Electrical parts), save game without ink ribbons.
— It is recommended that you enable/disable it with a hotkey whenever you need it. This feature can cause softlocks/bugs in some cases(3 medallions, big and small cogs etc)
Play Time:
— Setting it too low(less than a minute) can break some events.
How to Use the Manual Flashlight Feature:
— First of all, enable it, it's in Character->Manual Flashlight;
— Then go to Hotkeys, click Enable Hotkeys. You can also change the default binding for the flashlight here.
How to Increase/Decrease Enemy Health:
— Go to Enemy, scroll down, find Enemy Health Modifier. Now move the slider to where you want it, then enable this feature.
Once enabled and if you are already in-game and have enemies nearby, they will have increased or decreased health by x%. They won't be affected if you change the value — only the next spawn of enemies will be;
How to Move Enemies to Player:
— First enable it in Enemy, Move Enemies to Player. Then go to Hotkeys and make sure your hotkeys are enabled. Optionally change the binding(by default it's the HOME key);
Invincible Enemies:
— Mr.X (Both versions) and Birkin are not affected for obvious reasons;
How to Change Game Difficulty?
— Go to Stats, scroll down a bit, enable Game Difficulty;
How to Hide this App to Tray When Minimized?
— Right mouse click its icon in your tray, you will see Quit, Hide and Minimize to Tray. Click Minimize to Tray then click the Save button to save your preferences;
No Vignette:
— Removes vignette in-game, doesn't affect cutscenes. Can cause slight graphical glitches(this is why it's disabled in cutscenes);
How to Use the Save File Import Feature:
Enable this feature, quit the game then copy-paste new save files to
C:/Program Files (x86)/Steam/userdata/YOUR_ID/952060/remote
Start the game via Launch button. Do not skip the intros, let the trainer finish initializing.
When it's done, change a few settings to make your game overwrite the previous id — Steam ID is baked into every save slot.
Remember that save files are not compatible with all versions of the game!
Once you're done, disable this feature and restart the game.
In order to only unlock system data(unlocked modes, outfits, achievements) copy-paste data000.bin and data00-1.bin into your save folder and do the procedure described above.
If you see «Failed to Save Data», you most likely have other files(backed up save files or something else) in the save folder.
Switch Steam to offline mode, then delete remotecache.vdf in 
C:/Program Files (x86)/Steam/userdata/YOUR_ID/883710
folder and switch it back to online. This has to be done when the game isn't running. Closing Steam and then deleting remotecache.vdf should also work.
You may have to restart Steam multiple times for it to create a new remotecache.vdf with all the save files in it. If you see only the auto save and it looks like system settings were applied — this is your case. So try to restart Steam, select the game, do this multiple times. Disabling the cloud sync doesn't solve this particular issue.
Steam Cloud Sync can cause issues — if you're having any, try disabling it and then importing the save file.
Установка:
Установка проводится старым способом.
Распаковываем архив любым архиватором (автор рекомендует 7-Zip, но и WINRAR с этим справляется неплохо).
Копируем содержимое архива в директорию с установленной игрой
Запускаем трейнер от имени администратора. В последних версиях Windows система защиты не очень жалует подобные файлы, поэтому на запрос запуска отвечаем согласием.
В интерфейсе программы изучаем сочетания клавишь, дающие тот, или иной эффект.
Запускаем саму игру.
Интерфейс трейнера на английском языке, но интуитивно понятный. Смотрим скриншоты.
Источники:
http://www.gamepressure.com/download.asp?ID=74699
http://www.kaleydoskop-info.ru/games/re_3_ultimate_trainer.php