Skyrim Special Edition Update: What's New
Skyrim Special Edition 1.5.79 Update: What's New
Bethesda's pushed a brand new Skyrim Special Edition update to the Xbox One, PS4, and Windows PC and the new patch brings new content to the growing Creation Club.
It took a few months, but Bethesda's finally delivered a new Skyrim Special Edition patch.
The June Skyrim Special Edition update is a pretty sizable release and it brings the Creation Club content Bethesda promised to those still playing the game.
Bethesda hasn't posted an official change log and it probably won't. The company doesn't release official release notes for the game anymore.
With all of that in mind here's everything you need to know about the Skyrim Special Edition 1.5.79 update.
Skyrim Special Edition 1.5.79 Update Size
The June Skyrim Special Edition update is version 1.5.79 if you're playing the game on Xbox One. If you're playing the game on the PlayStation 4 you'll see a different version number. And while they might have different version numbers, the updates are exactly the same.
Like the previous patch, the Skyrim Special Edition 1.5.79 update requires a pretty sizable chunk of space on your storage. If you're playing the game on an Xbox One you're facing a 2GB download. The download size is around the same for those of you playing on PS4.
If you haven't played the game in awhile you'll see a much larger download because you'll be forced to download the changes from the updates you skipped.
The Skyrim Special Edition 1.5.79 patch is a mandatory download for all Skyrim Special Edition players. If you want to skip the download, you can put your console into offline mode and play the game offline to avoid downloading the patch.
If you're tired of deleting games or game clips when you need to install updates, take a look at the best Xbox One hard drives and PS4 hard drives.
June Skyrim SE Creation Club Content
The Skyrim Special Edition 1.5.79 update brings new content to the Creation Club marketplace.
Bethesda recently teased four new Skyrim Special Edition Creation Club creations including Dawnfang/Duskfang, Netch Leather Armors, Expanded Crossbow Pack, and Variant Armors. These are all included in this patch.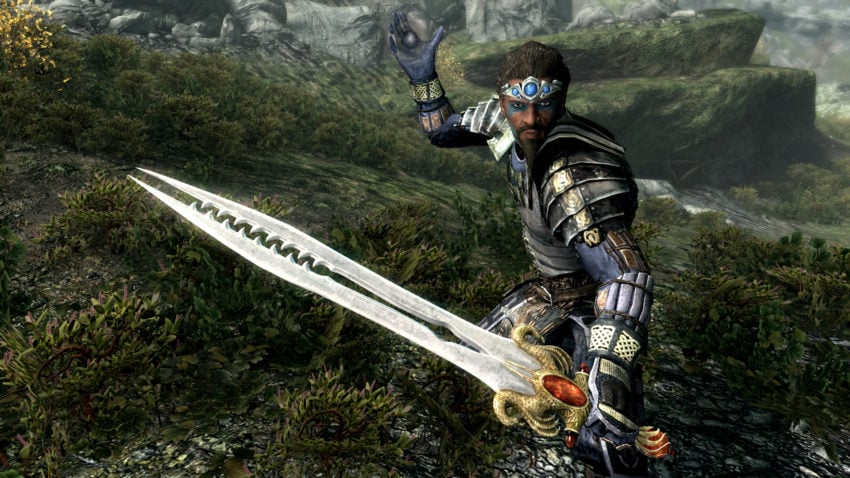 Bethesda's June update for Skyrim Special Edition brings four new creations to the Creation Club.
An exotic sword rumored to have come from Akavir. It is a singular weapon, but one that transforms with the rising or setting of the sun. Each form has its own unique enchantments, and both can be empowered by killing enough to excite the weapon. This only lasts until its next transformation, at which point the killing must begin anew.
Retrieving this weapon will require completing a small dungeon. Completing this will unlock a miscellaneous objective to uncover a second Akaviri blade in the same style, but with a separate enchantment.
Netch Leather Armors (600 Credits)
A classic armor from Morrowind, and one with multiple variants. This includes a boiled netch leather helmet and cuirass, and a darker "shadowed" version of both the normal and boiled pieces.
Please note, the base netch leather helmet lacks a mask for male characters to avoid clipping with beards. The boiled version will fully cover the faces of all characters, regardless of race or sex.
To learn how to craft this armor you must complete a short quest, which will also reward you with a special set of painted armor. An additional quest will allow you to uncover an equally classic enchanted set of these boots.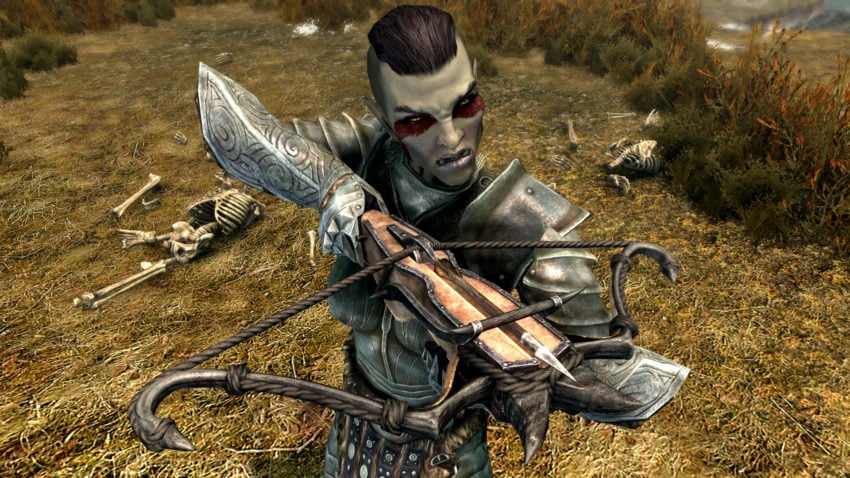 Expanded Crossbow Pack (750 Credits)
This pack introduces eight new crossbows: Imperial, Silver, Orcish, Nordic, Stalhrim, Glass, Daedric, and Dragonbone.
Each one can be purchased from the fletcher in Solitude. They can all be crafted after learning how to make crossbows from the Dawnguard, and you learn how to craft any one you purchase. In either case, you will also need the appropriate material perks unlocked in the smithing tree.
New versions of existing armor types, to add some variety to the game. Each one is being released individually.
Four sets of light armor: Elven Hunter, Studded Dragonscale, Dwarven Mail (100 Credits), and Daedric Mail.
One sets of heavy armor: Stalhrim Fur (100 Credits)
Sets vary between three and four pieces, as demonstrated in the screenshots below.
These armors are initially obtained from a small quest. Upon completion the armor will begin showing up on enemies, and can be crafted (assuming you have the requisite perk). These quests are initially added in the miscellaneous category.
Skyrim SE Creation Club Deals
There are also some limited time Creation Club deals on the marketplace that are worth a look if you want to some additional content.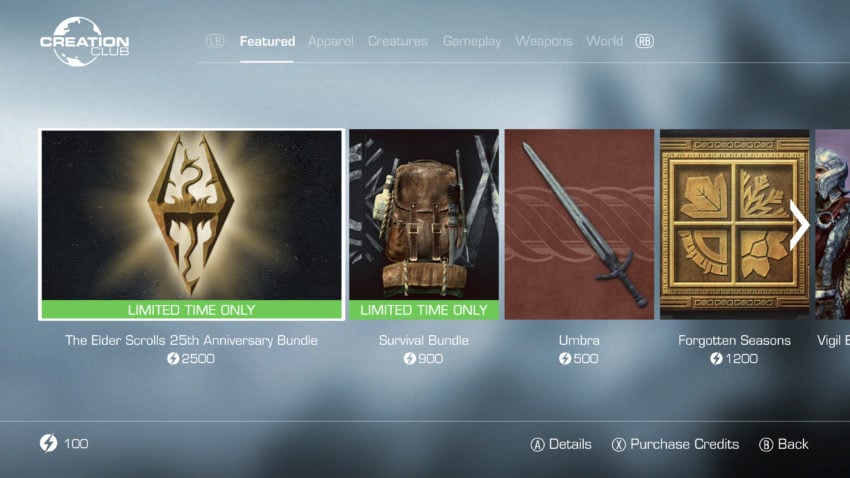 For a limited time you can snag The Elder Scrolls 25th Anniversary Bundle for 2500 credits. Note that the price doesn't change if you already own some of the items in the bundle.
There's also the Survival Bundle for 900 Credits, the Community Creator Bundle for 1200 Credits, Community Creator Bundle Vol. 2 for 2000 Credits, Divine Crusader and Chrysamere Bundle for 600 Credits, Sword, Backpack and Nix-Hound bundle for 650 Credits, and a lot more.
You can still get the Dwarven Armored Mudcrab, usually 50 credits, for free.
Bug Fixes & Problems
The Skyrim 1.5.79 update also fixes specular lighting on skin. That's the only known bug fix on board.
There's a chance the patch brings some new problems to the game. New versions almost always bring their own set of bugs and performance issues.
If you run into an issue with the latest version of the game you'll want to take a look at our list of fixes for common Skyrim Special Edition problems.
A Quality Map
One of our favorite Skyrim mods for PC is now available for console.
A Quality World Map by IcePenguin is an essential mod for PC. And now that it's available for console, it's an essential mod for Xbox One. (It's not available for PS4 yet.)
Bethesda's vanilla Skyrim map is decent enough but this mod takes it to the next level with improved textures and detailed roads.
The developer has literally drawn out every single road in the game and needless to say, it's impressive. And useful.
For more info, take a look at the video below.
Trust us, this one is very, very good. Give it a try today.
Обновленный и сломанный Special Edition! Как вернуть всё назад!?
Сегодня вышло юбилейное издание Skyrim, приуроченное к 10-летию игры. В честь праздника все владельцы Special Edition получат бесплатное обновление, которое принесет не только 4 бесплатных мода, но и большие проблемы для всего, что использует SKSE. Мы думали что это не коснётся SE версии игры, но это не так. Наши проекты и сборки больше не работают на обновленной версии SE а уж тем более и на AE.
О выходе Anniversary Edition мы писали не один раз и подробно останавливаться на ценах издания или новом контенте сейчас не будем. Речь пойдет о Special Edition и о том, как владельцам игры сохранить свою сборку модов без изменений.
Обновление изменит игру и сломает расширитель скриптов SKSE. Причина достаточно проста, теперь Bethesda использует Visual Studio 2019 для компилятора, а не Visual Studio 2015 как было раньше.
Как же сохранить свою игру?
Для начала стоит сделать резервную копию всех файлов игры!
Как остаться на старой версии игры и не потерять совместимость с SKSE?
Это относится только к Steam-версии игры. На остальных платформах версия игры будет обновлена автоматически.
Обратите внимание, что, оставаясь на SkyrimSE.exe 1.5.97 или переходя на более раннюю версию, вы не получаете бесплатные обновления и мини-DLC. Этот вариант предназначен исключительно для людей, которые хотят обеспечить совместимость SKSE на время, пока команда разработчиков SKSE не обновит расширитель скриптов.
Самое простое решение — заблокировать автоматическое обновление игры, настроив игру так, чтобы обновление шло только при запуске:
Перейдите в свою библиотеку Steam.
Щелкните правой кнопкой мыши Skyrim Special Edition и выберите «Свойства . ».
В меню слева выберите «Обновления».
В разделе «Автоматические обновления» выберите параметр «Обновлять только перед запуском».
Когда вы запускаете игру через менеджер модов или SKSE, проверьте, что Steam уже запущен. Если это не так, запуск сторонней программы запустит Steam, который потом запустит игру, то есть обновит ее.
Таким образом, ваша игра не будет обновляться автоматически. Если вы все же захотите обновить игру, просто запустите игру через Steam, чтобы начать процесс обновления.
Возвращение на предыдущую версию игры
Если по каким-то причинам игра была обновлена или вы просто хотите вернуться на Skyrim 1.5.97 (это последняя версия игры на текущий момент), но вы не сделали резервную копию, тогда вы можете загрузить более старую версию игры из Steam с помощью консоли .
Нажмите клавишу Windows + R.
Введите «steam://open/console» (без кавычек) в поле ввода и нажмите Enter.
Откроется Steam. Вы должны увидеть консольную вкладку справа от вашего никнейма.
Перейдите в консоль Steam и введите «download_depot 489830 489833 2289561010626853674» без кавычек и нажмите Enter.
Это загрузит SkyrimSE.exe версии 1.5.97 в папку, указанную в сообщении о завершении загрузки.
Перейдите в эту папку и скопируйте этот SkyrimSE.exe, заменив тот, который находится в папке с игрой.
Убедитесь, что ваша игра теперь обновляется только при запуске, как описано выше.
Всё. Так вы останетесь на текущей версии игры.
Способы не самые удобные, но зато вы сможете сохранить свои модификации, а ваш игровой процесс не будет сломан. На случай, если вас интересуют какие моды работают на AE, а какие нет, Nexusmods уже подготовил список популярных подключаемых модулей SKSE и таблицу совместимости, которая будет со временем обновляться.
Skyrim Special Edition update causes more issues than it fixes
Skyrim Special Edition is an impressive game, but unfortunately the gaming experience has been very disappointing for many players. This game is affected by many bugs, ranging from FPS rate issues to audio bugs.
The good news is that Bethesda recently rolled out a patch for Skyrim Special Edition, fixing four major bugs. The 1.1.51 update is available on Steam Beta and should soon come to Xbox One as well.
The Elder Scrolls V: Skyrim Special Edition 1.1.51 update fixes the following bugs:
General performance and optimization improvements
Fixed rare issue with NPCs not appearing in proper locations
Fixed issue with saves erroneously being marked as Moddded, even though no mods are active
Updated some sound files to not use compression.
Here's how to access the Steam Beta
Log into Steam.
Right Click on Skyrim Special Edition in your Library.
Select Settings.
Select Betas.
A drop down menu will appear. Select Beta.
Select OK.
Wait a few minutes for game to update.
When done, Skyrim Special Edition [Beta] should appear in the Library.
Bethesda's intentions were definitely good when it released this update, but it appears this patch is not enough to guarantee a smooth Skyrim Special Edition gaming experience.
Gamers report this update causes texture issues, tearing and ripping across the screen.
In both the normal build and the 1.1.51 beta build the textures screw up. Suddenly you'll get tearing and ripping across the screen. I've also seen pixelation appear if you stare at stuff eventually (I've noticed this during conversation – suddenly you see ghost images and screwed up textures)
Also, the update causes FPS rate issues, with many gamers complaining that after installing the 1.1.51 beta build, the FPS sometimes drops to as low as 40.
Unfortunately, after updating to the 1.1.51 Beta version, I've noticed a significant decrease in smoothness. Looking around and running causes jittering and after testing my fps in-game, I realized it has decreased from 60 to 40-ish frames per second.
Judging by user reports, the Skyrim Special Edition 1.1.51 update definitely needs more polishing.
RELATED STORIES YOU NEED TO CHECK OUT:
Источники:
http://lastrium.com/home/news/obnovlennyj-i-slomannyj-special-edition-kak-vernut-vsyo-nazad-r210/
Skyrim Special Edition update causes more issues than it fixes